I made this music blog on Wordpress from 2018 to 2019, but the ads on Wordpress became pretty insane so I remade it here.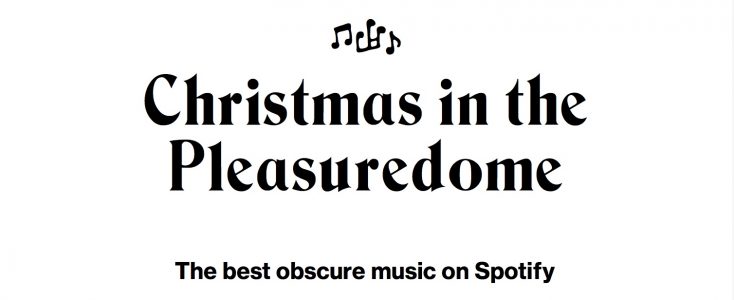 CHRISTMAS IN THE PLEASUREDOME
2018-2019












Don't let the album art turn you off — "Towards the Sun" is a lo-fi weirdo r&b banger that would absolutely fuck up all the charts if he released it in 2019. "I Trust Everything About You", "Think About This", "If I Only Had a Minute", "Love's Parade" — like D'Angelo, R. Stevie Moore, Sade and Moses Sumney took to the studio on a moonlit night and got DEEP into it. Sensitive bangers. Those hushed bedroom-pop octave harmonies, self-repressing like there's someone sleeping next door. The vulnerability of admitting that you have a bedroom. Michael was a really wild avant-garde jazz guitarist in the 70's and 80's (and still is on his recent albums) but here the NYC dissonance is traded for warm layering and Seal-esque vocal melodies. Delicate and intricate, melismatic ribbons. Traci Chapman's there too. I love this album so much. The best part is the way each song cuts out at the end — you can almost hear him hitting record again on the tape recorder to go back, add another layer, fold the garden back over onto itself.













There's a bunch of stuff on a trampoline. It's just rained and kids are jumping in slow motion — all the pebbles and branches and the socks coming unstuck from the wet springs — all of it flying up, colliding in the air, rearranging. That's Diawara's fingers on the kora, syncopated by milliseconds with pianos, violins, a percussive sound, a voice — the tinkling of the world like raindrops.












Music for the slow contagion of invasive species, like the steadily growing Kudzu vine systems that dominate the land around Florida highways. Don't let the album title throw you off. This is moss music, wet and dark and fertile. Pet turtles gently lowered into a muddy pond, swimming away from kids' hands — only to join the million other pet turtles steadily choking out the pond ecosystem. Together. Jan Akkerman's guitar, murky and widespread, and Tony's snaking clarinet. Insanely good, infinitely repeatable (except for the off-brand blues track in the middle), and totally unique, a one-off departure into the depths from an underheard originator of New Age music.















Prismatic remaster of the 1992 original, a self-described "glitter space disco horror fantasy". The thing that gets me about these songs is that they're so clean — producer Pupka Frey takes what ought to be murky, hyper-abrasive industrial/EBM songs and isolates the individual sounds into these crystalline, 100% pure designer drugs. Each tone is so distinct, so scientifically separated. A totally cloudless sky. The definition of CD music. I know I'm basically describing every mid-90's trance album, but this one is different — it's menacing and and anxious and invigorating without the safety of darkness, like those strange transparent fish with the laser-light heart and organs beating out in the open.

Favorite tracks: "Travesty", "I've Seen it Done", "Terroreyes" and "B-Minis Megamix" (but really every track is a hit — so rare in the 90's electro world!)














This album has had a pretty substantial cult following for decades, and a ton of writers have dug into the history and untangled the lyrics and pulled apart the references — if you want more info, it's definitely out there. All I'll say is that when the ugliness of the world makes jasmine-fringed enchantment seem too far out of reach, there is always Ann and Robert's hyper-artificial, TV-dinner-style transcendence, an instant secret escape for one. Play any of the first three tracks, let them shatter whatever rut you're in. It's absolutely magical.












Ambient, hypnagogic organ pieces from an avant-garde master, less classical compositions than bedtime auditory hallucinations, the sound dreams you hear when the laundry is going. Infinite warmth. The sound of an instrument breathing. For me, tracks 3 and 4 edge gently into Beach Boys territory (harmonically) giving the whole thing a strange overlay of Californian sun and jasmine. (See 12:13 of Track 3). But like all dreams, it's just the head softly replaying sounds and visions of the days before.











Laid-back, super unique, infinitely groovy. A Peruvian take on 1960's British Invasion beat-pop. Every track is a hit, both distinctly South American and readymade for screaming American fans on The Ed Sullivan Show. Afro-Peruvian percussion fills out the subtlest of Latin backbeats and jangly Kinks guitars weave through big-throated harmonies, seemingly indebted as much to The Beatles as folklorico groups like Los Nocheros De Anta. (That song is unbelievable as well!!) The perfect summer music. Look out for the "Sitting on the Dock of the Bay" cover — unreal!












Absolutely perfect jazz album from Italian guitarist/composer Franco Cerri. It's something about the production, the way the tape compression mashes everything into one warm, square sound. First two tracks are my favorite, but the album is full of endlessly repeatable mood pieces, sparse in the gentlest way, somewhere between Chico Hamilton and Italo-horror soundtracks. Self-aware background music that stays a healthy distance from the murky pit of Italian library music.











The Institute for Danish Sound Archaeology's 2018 reissue of an obscure field recording masterpiece. Unlike the last field recording album I posted, this is all about the process, the studio, the human hand and attention span. Percolating water and those bird songs that feel like hyper-sped-up rumble strips (is there a word to describe that quick chopped rhythm?) — all cut down with razorblades, echoed or EQ'd to form uncannily ordinary yet completely new and imaginary sound worlds. The nice thing about tape-based sound art is the way sections often transition abruptly — the razor-cut stops-and-starts contrast so well with the seemingly endless worlds of each piece.






Flawless album, alternately warm and cold, vibrant and empty all at once. Impossibly delicate, the pure distillation of Saturday afternoon made-for-TV-movie soundscapes you've always wanted. The super-dry synth sounds in "Tema della Luna" and "Sweet Singin Waves" are so interesting and so forever-stuck-in-time, like strange delicate lace ornaments on 80's furniture. Multiple tracks follow the same rough chord structures of the Twin Peaks theme, especially the first and last, lending the whole thing a vicarious sense of mystery. The two-person sweater on the cover is fascinating.











Hyper-vulnerable dance masterpieces from Loui$ and his incredible eyebrow. Songs for heated public dance-offs where the contestants have trouble making eye contact with each other because they have a lot on their minds and they've been hurt before, and sure they both have mutual friends here but I haven't seen you here before and dammit didn't I tell myself I wasn't going to fall in love in New York City anymore? Look, if someone's gonna try me, I'm gonna go all the way. No eye contact, no words. Just eyebrows. Shoulders. What's your name? All the songs cut out abruptly at some point, but the extended versions of the first two tracks are available on the single (linked). Sorta like the lo-fi Italo disco cousin of Scritti Politti.














Abrasive analog industrial tunes recorded live in the Netherlands, like a Neu! record that got fucked up in a dishwasher somehow. Lush tape effects, motorik drums, hints of Jerry Garcia in the guitar. Infinitely obscure and infinitely groovy.

EDIT: I'm reading this again in 2022 and don't hear any "hints of Jerry Garcia" but it's still a badass album











Ambient-environmental-jazz-funk tone poem in four movements from the Faroe Islands, written for the Icelandic National Ballet. Track 2, "Bird Cliffs", sums it up — faraway seagulls, ocean cliff sea foam, an impossible groove of bass clarinet, 80s-dream-sequence Rhodes and a rimshot so perfectly reverb-ed you could swear it was echoing inside your own empty head (good feeling!).

Birds turn to dogs in movement 2, clarinet turns to a sax (unfortunately) — but movement 3 sends me to literal Judeo-Christian heaven: the dustiest saxophone ever over tape-looped choirs, the slight hum of room tone, the quiet shuffling of a body. Footsteps maybe. Sounds of life. Movement 4 is wild too. Perfect album, and all so strangely specifically North Atlantic, like being suddenly homesick for moss, whaling (??) and the letter "å", etc.













Where the Rhine flows into Lake Constance: a huge, shallow water delta, its reeds providing safety for more than 300 bird species, many of them rare or endangered.

Guy Hocquenghem in 1973: "This situation has reached the point where the strangeness and phantasmagorical anomaly of daily life that capitalism has created is fought against even before it is perceived. Since they know that every­thing is misery, exploitation and political trickery, and since they have established that everything must be systematically criticized, they have completely forgotten the pleasure of observing their surround­ings. […] Physical sensibility to the planet and the play of receptive organs would appear to conceal an enemy of the revolution or some diabo­lical form of power."

Get out of your head! — An antidote to the anthropocentrism of the 1970's Environments albums series and its unending lineage, the millions of Ocean Noise for Babies and Brookstone bluetooth-headphone-testing-station albums and et cetera, that have completely deflated the diverse, intelligent sounds of nature into post-work self-care, artificial "sonic baths" for the eager worker ready to get back into it tomorrow morning. Grout for the ears, auditory pavement. Fuck that! Open up the window, there's geese out there. To misquote Leonard Cohen: there is a crack in everything; that's how the squawking gets in. It'll be a real shame to go through all the trouble to save the planet only to find out that it doesn't sound like a spa tape out there. An ode to anti-humanism, songs not made for human ears, songs that aren't really songs at all. The truth behind all music: it was always just domesticated sound.

On a technical level, the suite-like nature of the album — the way it works as a single drawn out piece — is insanely great and pretty uncommon in this genre. The sounds themselves are incredible: the layering of close and faraway sounds, the intimate trickle of water through reeds with distant frog and bird choruses in super expansive stereo, forms an absolutely perfect mix, an infinite world worth saving.
















A fever dream shared by two devotees, one of Thelonoius Monk and the other of Billie Holiday, sounding more like the sparse 1910's polytonal experiments of Charles Ives than anything in the early 60's jazz scene. Feels abrasive, even overly minimalistic at times, but it settles in, and then the spaces between the notes start to ring out. Let your living room wear this album. It drapes itself over all the furniture, melting, like Jeanne's red shawl in the photo above; the aching deportation saga of "Where Flamingos Fly", the 20th Century Fox noir of "Laura", the not-quite tonality of "Lover Man". The musical equivalent of burning hair curling at the ends, gesturing, then falling to ash on the floor.












Philip Tabane and his family were forcibly removed from their rural South African home in the early years of Apartheid, sent to be resettled elsewhere as government officials demolished and rebuilt the neighborhood so white people could live there.

The point of listening to an album like this — (besides the pure auditory sensation I mean, the way it scratches your ears and fills up the room like fresh air. I should say, the point of seeking out an album like this) — isn't for the "exoticism", or the joy of empathy or definitely not the piece of trash idea that we're all really the same on the inside, or anything like that. The point is to listen to how a different person interacts with earth's materials (guitars, throats, mouths, strings, skin, metal, etc.) in an unrecognizably different way, how they play the world differently, strike it differently. That's all that a culture is: a constellation of interactions with the world. There's a million ways to do it. Anthropology, the study of people, should be forever replaced with the study of those people's knowledges: trying to learn what they've figured out about this place, about their own bodies, those systems they've uncovered and the music it makes. The chords they've found, or ways of playing them. As the world globalizes, as shipping containers and et cetera structure the world into regulation-size trade routes, it's important to remember that, like Spinoza said, no one knows what a body can do. Or a guitar, for that matter, its resonant strings, or the skin of a drum. Or a kid in a neighborhood, or the neighborhood itself. What can a house become, if you don't demolish it? What can a family do if they're left to their own secret sorcery? All the possibilities of matter extending into virtual space forever in every direction.

RIP Philip Tabane, 1934 – 2018.












Somewhere between jazz and classical, in those few years of open waters between easy listening and new age. Wild, impossibly chill tone-poems from pianist Roger Kellaway. Something like the homesick music they pump into public spaces in Tokyo, but more ornate in the margins.











Who is Loredana Bertè?? I feel like I've been searching for her voice forever — breaking, knowingly melodramatic like Dolly Parton; manic, hoarse from screaming…. sweet, yearning, anarchic. Everything at once. She's perfect. On "Lontano da Dove", her vocals strain and cry and break over a super infectious, super wide, super laid-back Fleetwood Mac-y (almost Neil Young-ish) backbeat, rising and rising and rising until the most welcome sax solo ever kicks in. She takes her vocals even further in "La Goccia", yelping out runs and shrieks that wouldn't seem out of place on a Slits track —- while the most fucking perfect rhythm section thumps out a magically restrained 4 on the floor in the background. Genres blend — "La Goccia" edges into Kiss territory, while "Canterò" is easy, bittersweet Rhodes-led funk, like Donny Hathaway backed by Parliament. And the masterpiece "Number One" is a perfect closer, an obvious hit, like it was just plucked out of the air and discarded into the tape recorder like a plastic wrapper. Amazing.










Before there was Ween, there were The Wibbley Brothers.

"Golden Moments" effortlessly finds that rare and perfect middle ground between parody and sincerity. The singer, heartbroken, wistfully lists all the little things that remind him of his lover — "every little eyelash found in the teapot", "every little child adrift in a snowstorm", "all the tins of fly spray left in the toilet", etc. etc. — like a more horrifically realistic version of "These Foolish Things". It's catchy and beautiful and perfect.

"I Am The Pope", "First Aid", and "The Wonderful World of Terry Wibbley" are all fucked up, insanely catchy pop miracles that drift between absurdity and nostalgia in impossible ways and I can't believe I don't hear them playing in Los Angeles 24/7. (The samples below don't do them justice — this is pure magic.)












Claire Hamill made a string of wonderfully warm and hazy folk albums in the 70's and recorded with British rock band Wishbone Ash in the early 80's, but somewhere around 1983 she took a big ol' left turn, brought out the synths, amped up the astrology references and made the totally avant-garde, totally dancefloor ready "Touchpaper". Gary Numan guests on track 9, and it rules. (A year later she would take the experimentation a step further with the pre-Enya, nearly acapella album Voices. It rules too. For my money, though, Touchpaper is the masterpiece.)

Essential tracks: "First Night in New York", "Gonna Be the One", "Ultraviolet Light".











Deep, intimate and totally drumless jazz meditations that move through Terry Riley-like mantras, hyper-minimalist echoes of Yes's folkier stuff, and raindrop-like vibraphone solos on warm bass/guitar soundscapes. This is the ultimate anti-anxiety album, replacing worry with calm mystery and dreaming.











Finally available on Spotify, Carla Bley's dreamy jazz masterpiece "Night-Glo" is the absolute best example of her minimal, woozy production style and super tasteful, always understated piano playing. Steve Swallow joins in on bass, and the whole thing just melts in your head. A short album, but infinitely repeatable.












Is the German language a lost cause, musically speaking? Look at that cover! Look at those guys, their somehow natural-yet-picture-perfect poses. Look at that sunset, that motorcycle! Listen to that production, the Big Star-esque phasing and nostalgic strumming of track 3, the super dry drums, the way every instrument is given room to breathe. The tasteful backbeat, the somehow tasteful high-70s guitar solos. This album ought to playing in every parking lot where kids are drinking their first beers.

And yet… "Beinach ein Hauch von Einsamkeit." Ugh. Is it a lost cause? You tell me.












Sort of off-brand in the sense that she's not really obscure, and the majority of her work isn't on Spotify at all — but Sally Oldfield's Water Bearer is such a good album that it doesn't matter. Nothing to say about this one, except that it's the feel-good tropical-new-age-folk-lullaby song cycle of the millennium, with every single note placed in its exact right spot, and it will cure your sadness or hangover or boredom or anxiety instantly and maybe even forever if you let it.











Another album with seemingly no online information, "Insieme" is a truly unique record in the ambient/library/experimental world. It plays like a slowly revolving series of images, each one totally distinct, each one moving seamlessly into the next. There's no focal point in any of the images. There's no pattern. It's like taking a slow train through a city you'll never see again, a place you'll never call home, just looking, listening. (The looking-out-the-train-window cliche is totally appropriate here, as the whole thing carries this incredible melodramatic 80's daytime soap opera undertone — perfect for really indulging in weird, embarrassing melancholy.)

The first track sets the mood: ambient city noises turn to arpeggiated synths and cavernous percussion, then a section of low, warm droning moves into a slow-motion reprise of the first section with cellos yelping in the background. Then we're back in the city, back where we started, and the honking fills the air again. All we know is that we've gone somewhere. Later tracks move the same way, through spacious Rhodes saunas, humming Indian tamboura and shahanai drones, and all kinds of nightmarish soundscapes. Truly strange and wonderful.











Take the super-tight vocal harmonies of American doo-wop, add in a lonely, tremolo-heavy guitar playing gorgeously restrained arpeggios in all the right places, layer it over the slinking backbeat of Cuban bolero, and record it all in the dead of night in a country in the aftermath of the brink of war, and you might get something like Los Zafiros.

There is a haunted feeling to this music, even in the upbeat tracks, that you'll never find in the American music that influenced it. Even a song like "Hermosa Habana", ostensibly a simple love song to the city of Havana, sounds so pained and complex, you'd think the city had burned down. (Maybe a veiled ode to the memory of pre-Castro Havana?) The ultra poetic "La Luna en Tu Mirada", and appropriately titled "Canta lo Sentimental" — I blame it on the lonely guitar, front and center, playing so little and saying so much — or maybe the backing vocals, drowning in the illusory reverb of swirling, ultra-tight harmonies — or maybe Ignacio Elejaide's minimal vocals, always trailing off when the emotion seems to warrant a crescendo — no one did restrained melancholy like Los Zafiros, and perhaps no one will.











Morgan Fisher, best known as the keyboardist of Mott The Hoople, has been pushing musical boundaries for decades (just check out his output on Spotify: everything from Eno/Budd-esque ambient warmth, far-out avant garde experimentations, totally insane post-punk covers of everyone from Nancy Sinatra to Kate Bush to a ten-years-and-running series of live organ performances, each called [perfectly] "Morgan's Organ") — but the furthest he ever reached was with his totally unpredictable and endlessly danceable 1983 vocal album "Seasons".

This album is truly perfect. Seriously. Recorded at the Medina Rajneesh Neo Sannyas Commune, a Rajneeshee center in Britain, the album attempts to reimagine 1960s countercultural anthems in a somehow even more psychedelic (albeit heavily 1980s) style — and it works. Morgan and his crew turn Traffic's heavy hitter "Coloured Rain" into a weirdly intimate and totally unsettling head-bobber with late Talking Heads percussion and tinkling xylophones. "Kites Are Fun" (just called "Kites" on the official release) shouldn't work in theory — a 1967 Moody Blues-ish mellotron-heavy Simon Dupree track reimagined as a bombastic koto-heavy reggae track. And it all works! "Take A Heart" ought to be played next to the 1966 original by The Sorrows to really appreciate the genius instrumentation at work here: endless currents of super wide stereo hand percussion, dubbed-out guitars and a wild violin solo out of nowhere. "A Taste of Honey" is the most experimental of all, taking a easygoing standard and turning it into something like the music of dogs howling on a beach.












Pierre Cochereau, organist of the Notre-Dame Cathedral from 1955 to 1984, took a fascinating approach to classical music, one I had not realized was possible: generally uninterested in the world of composition, he chose instead to release dozens of albums of live improvisations — all played on the fly, never pre-written or transcribed, played once and then never again.

The recorded improvisations — whether totally original works or tangled-up, personalized variations on preexisting themes — revealed a musical style that was totally his own: melancholy yet playful; soaring yet cerebral; obviously indebted to dense-but-lyrical French composers from Maurice Ravel to Francis Poulenc to Oliver Messiaen, but somehow more immediate, more focused on the mood and show of improvisation itself, the magician-like act of stringing an audience along through tension and shock and twists and eventual catharsis.

There is a strange and totally personal emotion he reaches in "12 Unissued Improvisations", my favorite of his albums, which I cannot find anywhere else — something soaring and infinitely nostalgic. Maybe it's the slightly out-of-tune organ pipes, or slightly out-of-tune chords… or maybe just his seemingly blissful willingness to slip up or slow down, experiment with structure, or hold chords out and think of new ideas, as if it were just him, playing at home for himself and no one else.

The opening melody of the absolutely perfect first track "Les Baux-de-Provence" neatly sums up the sound: light, gently lyrical, open and airy, rhythmic, with a playful sense of dissonance that could easily be attributed to radical experimentation, Bach-like "theoretically correct" harmonies, simple accidents, or somewhere between the three.

One of the joys of the album is hearing the opening melody of each track appear again and again throughout the pieces, first smothered in weird harmonies or weighted down with sadness, but always reappearing triumphantly in the end, the magic act completed. At 4:35 of "Les Baux-de-Provence", for instance, after a swirlingly romantic crescendo, the theme is suddenly reintroduced as a 4 part Baroque fugue — totally unannounced. The album is full of great moments like this.

The album was recorded during a French tour in the summer of 1969, and each piece is named for the town in which he played.













Not sure why this one isn't talked about more often (if at all). Steven Brown, co-founder of experimental & theatrical new-wave outfit Tuxedomoon, had a great solo career that peaked with 1991's super bonkers and joyous and sultry cabaret masterpiece Half Out — but this album is Zoo Story, Steven's first solo work, the score to a production of Edward Albee's one-act play Zoo Story, and a masterpiece mixture of NYC-brand minimalism, raw street ambience of voices and sirens, smoky saxophones and sawtooth synths seemingly ripped straight from a John Carpenter film. The thing that really sets this album apart from all the other weirdo 80s film scores out there is the perfect layering of field-recorded street/subway/television ambience and studio-recorded music — the voices and sirens and scuffling and shuffling blends soooo well with the pulsing synths and warm pads — I have yet to hear an album that uses ambience in such a subtle and evocative way, dead-set on bringing you into the world of the music, seemingly more interested in the setting than the foreground, always directing your attention further and further into the background, past the music, into the street corner just out of range — if you listen hard enough, you can hear them talking, even up in the apartment windows — And also, wow, major spoiler alert in the title of track 9.












I've tried my hardest to find information about this record, but Google Translate isn't much help with the Thai language. I do know that's it's an example of Thai country music ("ลูกทุ่ง" / "luk tung") — a genre which, due to its vibrato-laden vocals, rural/religious/political lyrics and mixtures of traditional & western & acoustic & electronic instrumentation, is a direct predecessor to the whole Thai funk/psyche thing that's become pretty popular in America and etc.

What makes this album stand out from that scene is its total rejection of symphonic instrumentation (no violins, no brass, no keys or psychedelic synths; just bass, guitar, and a simple tick-tocking drum machine) which, together with the absolute poetry of Rungpetch Laemsing's voice (both breezy and tightly-controlled, like the lilting updrafts and sudden snaps and recoils of a kite at the beach), creates an openness and emptiness and sense of yearning so strong that I can only describe the whole thing as "homesick" — and yet, there is also the feeling that you could listen to this album in any city or country in the whole world and feel suddenly and completely at home.

Rating: A+++++++++++++++













Geir Jenssen is best known today for his 27-years-and-counting run as ambient/house musician Biosphere — but for my money, it doesn't get any better than the sole album he released under the Bleep moniker: 1989's "The North Pole By Submarine".

Combining the best of German EBM with American hip-hop and fourth-world (see the album's numerous samples from label-mates Susan Deyhim and Richard Horowitz's equally brilliant Desert Equations) Bleep manages to be both pounding and melodic, abrasive and accessible, restless and strangely meditative. Discounting Front 424's perfect string of albums from 1982 to 1988, it's hard to find anything in the industrial/EBM/Detroit techno world that matches this level of experimentation, catchiness, anger and sonic warmth.

Geir dropped the abrasive elements and took up the more low-key Biosphere moniker in 1991, accepting the end of the 80s experimental dancefloor sound and helping to usher in the more introspective electronic work of the 90s — no surprise that Aphex Twin and Biosphere were (perhaps apocryphally?) both signed to R&S records on the same day.

Sidenote: the voice in "In Your System" saying "I am telling you…they're wrong!" (which sounds eerily like a young Donald Trump) is actually a sample of Michael Dukakis' televised 1988 presidential rally in New York (I had to check).













A bass clarinet sighs, a snare slices through the mix, and so begins the greatest triptych of teenage angst and lovesickness in the history of whatever genre this is. Eighteen year-old Susan Rafey sings like she's ushering in the apocalypse, and the music ravages and burns behind her. This music is bursting at the seams, fighting against the recording medium. "Now it begins", she sings, and the sun turns red and crumbles overhead. By the time we get to track 3, "World Without Sunshine", the messianic vocal delay gets pumped up to 11, and Susan is threatening that God might just turn his back on this whole shitty world. (Sure, it's most likely just a 1960's social statement, but still.) This is real angst and it's the best. By track 4, she's let loose her feverish grip on the world and settled down into a smoldering but dormant volcano of infinite sadness.

Then, with track 5, we move on and act like none of that happened. Singing a laidback tune penned by Artie Kaplan (of "Confessions of a Male Chauvinist Pig" fame) she seems to sort of smile and slip back into the slinky, easygoing mold of 60s songstresses. But we were there when the world burned.

Sidenote: her rendition of "Yesterday" is Connie Francis-level brilliant. When she finally cries out "I don't know… he wouldn't say," it's unclear whether she's singing or just giving up, exasperated.















Yasuaki Shimizu — the saxaphone-weilding genius behind some of the best Japanese albums of the 70's and 80's (including the absolutely perfect album IQ 179) as well as collaborations with everyone from Björk to Van Dyke Parks — was, like most of Japan's musical giants, for the most part absent from Spotify — that is, until the recent reissue of his masterful 1987 collection "Music For Commercials". (Another incredible album of his, "Kakashi", has become available as well.)

The album title isn't a joke: the collection, the curation of which Shimizu himself oversaw, is a stream of mostly unedited pieces that he composed for Japanese TV spots throughout the 80s. The overall effect is strangely commercial, like taking a swan boat ride through a luxury Japanese department store. You can't help but to imagine fingers on the cold marble of a jewelry counter, or the effortless grace of a mall escalator; the artificial but intoxicating smile of a uniformed sales associate. And yet the sounds — percussive (gamelan, marimba, etc) and airy (saxophones, synths, and what sounds like perfectly tuned gusts of air through an elevator shaft) — are entirely his own, sounds he hand-picked and assembled like a gem collector throughout the decade that preceded the album.












Alan Carvell was a session harmony-singer with a pretty successful behind-the-scenes career in the UK in the 70s. This album, a collection of his best solo and backup work in that period, has a couple great hits. The first disc is pretty standard sunny 70s UK harmony stuff. However….

…the SECOND HALF. Starting with track 16. Holy cow. This is what it's all about. Disc two is devoted entirely to The Carvells, a 70s boy band led by Alan that hoped to latch onto the brand new "skateboarding craze". Somehow every single song ends up being like an ode to the absolute horror of the trying to fit the words "skateboard" "skatepark" and "sidewalk" into anything like rhythm or rhyme (when it comes to extra syllables, Alan takes a foie gras approach) and a real big indication of why skateboarders eventually turned to punk for their own music genre.











Richard Bone had a busy but seemingly unknown career in the 80s, and now focuses exclusively on ambient music released on his own private label. 1985's Exspectacle was the last record he put out before starting his own label (presumably the last non-ambient record as well) and it's not hard to see the frustration that led to his career shift. This should have become a classic record by now.

Although the bombastic, boombox-ready production makes the whole album an exciting listen, the real gems are the tracks "Nights in Dixie" and "Heartache History". Richard got his start writing off-Broadway theater scores, and it shows: there's a real theatricality here that's rawer and more invigorating than 90% of the electropop tracks of that era — listen to the way his voice falters in the falsetto sections of "Nights in Dixie", or the way the minimal synths build slowly, climactically, around him. This is music for the stage, music for your hands. I can't express what a thrilling song this is, and how upset I am that it never got any traction. When he sings, "I let a warm night in Dixie get the best of me," I just want to grab his huge black and white collar and say, "Was it regret? Was it love? Who hurt you?"












Tom Lehrer is the absolute best satirical songwriter in the history of the form. His piano playing is frilly and ironically extravagant, and his lyrical tone is like a gentle pat on the back after you've made some awful mistake: warm, polite, and totally, speechlessly disappointed. These songs were performed live in San Fransisco in 1965, and they haven't lost an ounce of their bite. They still feel like personal attacks. It's incredible.

The first track, "National Brotherhood Week", seems addressed specifically to today's culture of posting love-filled peace-making "can't-we-all-just-stop-fighting" civil rights quotes on MLK Day, and inspirational Obama photos on his birthday, and staying blissfully apathetic and complicit and hateful for the rest of the year.

On "George Murphy", Tom sings about the horror and absurdity of celebrity politicians. The line that always cracks me up is "At last we've got a senator who can reaaalllly sing and dance." He's the master of irony — always bringing flamboyant tropes from musicals and cabarets to his songs about utter helplessness in the face of an evil and absurd society.

"New Math" is a parody of the 1960's 'New Math' trend (similar to today's Common Core) and it's worth listening to just for the completely baffling numerical-based lyrical acrobatics of Lehrer (a Harvard educated mathematician).

Other songs mock the futile activism of protest songs, fear of nuclear bombs, the joys of pornography, the commercialization of Christianity, pollution, and everything in between.

The true wonder of Tom Lehrer, however, is that among all of his picking and prodding, he never once crosses the line into misogyny, homophobia or xenophobia. It's the sign of a truly good heart that he could fling himself blindly and headfirst into a world of irony and anger and never once disparage or oppress the vulnerable, even in jest. (See the track "Alma", about a real life woman who was once married to a famous composer, and then a famous architect, and then a famous playwright. What could easily have become a slut-shaming anthem became instead a jealous ode to a woman that had really "known how to live". It's a celebration and a joke at no one's expense. It's unbelievably good.)

Tom has a couple other albums on Spotify, and they are all equally as witty and terrifying. (Recommended listening: the songs "We Will All Go Together When We Go" and "The Old Dope Peddler".) But this one, a full and flawless live performance, best captures the energy and joy of the under-appreciated genius.













From Wikipedia:

"In January 26, 1999, the fourth episode "Los Mochis to Veracruz" of the fourth season of Great Railway Journeys was broadcast. The episode was presented by chef Rick Stein and featured the "Ghost Train" which traveled over a now-defunct railway Ferrocarriles Nacionales de México between Los Mochis to Veracruz. Chris Watson spent a month (or five weeks) working as a BBC audio recorder for the programme. In 2010, El Tren Fantasma was broadcast on BBC Radio 4."

I've never heard an album quite like this — a stream of seemingly raw audio recordings of trains and birds that suddenly, at track 4, seems to just fold over and enter a surreal alternate world where trains and birds still fly by, but everything moves with them. What seems to be a droning synth reveals itself to be an artificially elongated train horn — or maybe just a bit of ambience from the passing — and then the looped, heavily EQ'd sounds of the rails take over, only to again fold over and become something else entirely, like the floating, pre-death sounds of a nightclub overdose. The whole album is full of surprises, both subtle and spectacular. I love that the completely bizarre and unsettling atmosphere of track 4 is never matched again: it allows you to hear the nearly-raw ambience that follows completely subjectively, suspended, unsure if what you're hearing is magic or nature. That's the best thing that music can do.













"Candy Blues" is a jangly, drum machine-backed 7″ single from the short-lived British label Red Rhino. There's little to no information about Steve Dixon out there, but the photo says a lot.

"Candy Ina Babylon", the dub remix of the A-side, is just the best. It's like a dizzying and fucked-up mix of every possible genre of music that men have ever made to strut to: hip hop's spacious 808s, disco's bass grooves, early country/rockabilly's twangy slide guitar, Lou Reed's strung-out NYC poetry, and a totally messy dub tape delay over everything as if he were continually stirring the pot of his influences and seeing what freakish dance track would come out. It's a nightmare vision of alternate reality hyper-masculine music and I'm super into it.

Side-note: In "Friction & Sheets" he says, totally seriously and with zero romance in his voice, "If I had a job, I'd give you all of my pay." That line kills me. The way he says it. Sung by anyone else, it might seem somewhat hopeful and dreamy. But with Steve it's just like, "I don't know how else to tell you that I don't have a job, and therefore I will not be giving you any money."













A lot of jazz music requires you to focus your attention on specific things like melodic lines and harmonic tensions, but I like these songs because they're just like these big, solid, monochromatic stones that offer nothing when you try to investigate them or pick them apart; they're just big clusters of sound and rhythm and noise and shouting, with no one specific element out to steal your attention. This is music for throwing bowling balls at plate glass panels on a sunny day.

Originally released on a private Zurich label in 1963, with only a handful of copies still in existence. Reissued in 2015 on the Sonorama label.